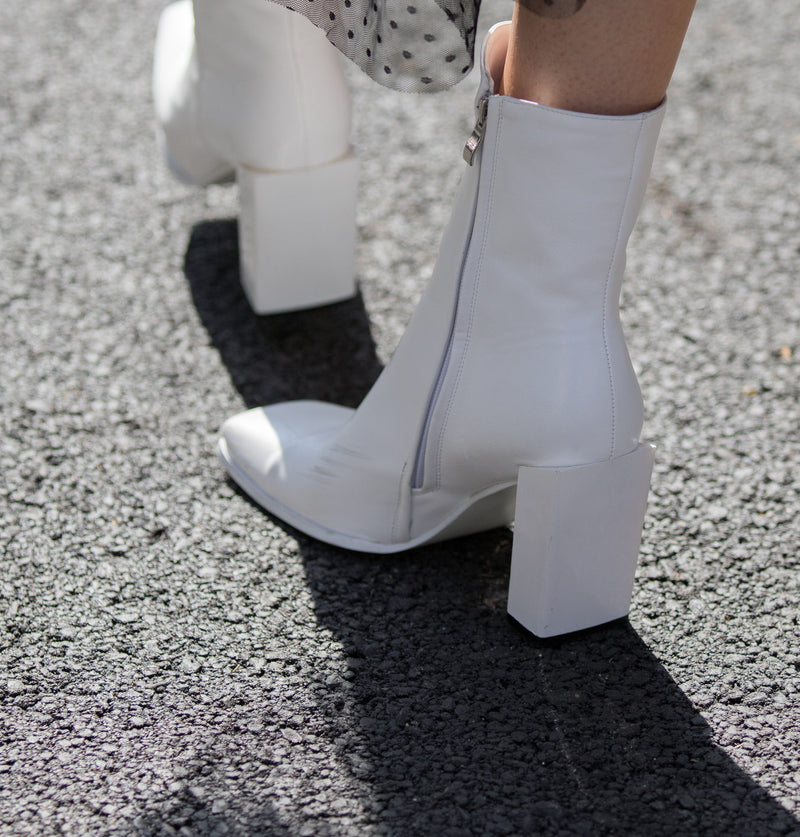 So, according to the catwalk, your wardrobe is in need of a fresh, bright white pair of boots this Autumn/Winter.
As far as transitional footwear goes, white is up there among the best. Sure, a little daunting of a colour, but oh so versatile. The item to take you from Autumn right through to Spring, it's the must-have
Whether you wear them with a sophisticated boss babe power suit, a ruffled boho dress or a floral playsuit, a pair of white boots has the ability to make anything you're wearing stand out.
Ramp up your boot collection this year and add an instant pop to every outfit with our help.
Put a Sock in it
One of our favourites, is the heeled sock boot. It's been around since 2016 and it's going nowhere. Even better? A white heeled sock boot. For a cool girl edge that'll take you from coffees to cocktails, go for midi skirts with sheer tights for the colder months, or brave the bare leg look for a stylish transitional style.
Boho Chic
Whether you've got a big meeting at work or you're off to brunch in the city with the girls, team a pair of pointed stiletto's or retro square white heeled boots with a boho style dress. Think lots of printing, ruffles and maximum drama, instead of your everyday boring winter warmers. Try the Golden Tiered Dress or the Good Times dress by Zimmermann for your next high tea or that all important second date.
9-5 Babe  
Although we're going crazy for pointy toed, mule boots with the thinnest of heels, if you're looking for a pair that you'll get optimum wear out of, season after season, a chunky heel is your best bet. Team with a shirt dress, an oversized blazer and your favourite black cross-body bag for the perfect outfit to take you from laptop screens to cocktail bar scenes. Ready to go win a new client at work? Rent this YSL clutch for #bossvibes.  
White on White
Brave, bold, and the freshest of all, team a pair of white boots with white pants or a white pantsuit for an undeniably cool look. Effortless yet so dramatic in one look, take it one step further with an oversized black coat and a pop of colour with a bright clutch bag like this box beauty by Olga Berg. Monochrome magic, thank us later.
If you're ready to take your new white boots out on the town but need a cute outfit to match, we've got you covered. From Victorian style lace up floral numbers to retro minis that'll steal all the stares, head to Style Theory to find the perfect fit for you.
Need help putting an outfit together? Book a styling session with your very own personal stylist at our Melbourne Boutique! Contact us today via hello@styletheory.com.au.
Related Articles