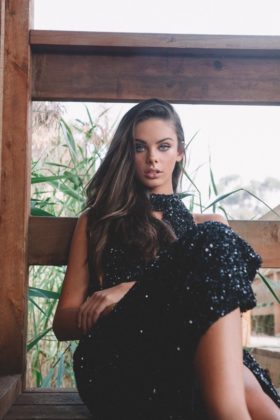 Spotlight on: Self-Portrait
Since Self-Portrait was born in 2013, the brand's success has been rapid with no evidence that it's going to slow down any time soon. In less than five years, designer Han Chong has turned his modern womenswear brand Self-Portrait into one of the most sought-after fashion labels across the globe.
Described as the red-carpet worthy label that 'normal' people can actually afford, the technical innovation, together with an aesthetic boldness, dynamism, detailed edge and feminine sensibility is what makes the Self-Portrait label stand out against its peers.
So, what do we need to know?
THE MAN
The genius behind the label is male designer, Han Chong. The publicity shy designer now resides in London, and grew up in Penang, Malaysia. After graduating from Central Saint Martins, he co-founded the label Three Floor in 2011, but left in 2013 as he felt constricted creatively and made the decision to branch out alone. It was then that Self-Portrait was born, and we're so glad that it was.
THE SCHOOL
Han Chong is a graduate of the famous Central Saint Martins in London. The school includes an impressive alumnus of students, including Alexander McQueen, Zac Posen, Matthew Williamson and Stella McCartney. He even chose the school due to his deep aspiration and respect for the late Alexander McQueen. He stated, "The environment was super creative, and you can do anything you want there, there's no restrictions".The no restrictions rule is evident in our range of Self-Portrait pieces, sure to turn heads.
THE LABEL
Where do we start? This brand is different to any other label around. There's nothing ordinary about Self-Portrait, that's for sure. With so many high-end designers, or high-street stores, Han Chong's label fulfils a gap in the market for women looking for intricately designed garments, made from distinctive fabrics without breaking the budget. If you're worried you won't wear these stand out pieces more than once, we recommend renting a dress. Cheaper, easier, and your Instagram page will thank you for it.
THE SELF-PORTRAIT WOMAN
The great thing about this much-loved label, is that each collection includes a piece for every kind of woman. From pencil dress fit and flares, latticed mini's, and cute out jumpsuits, the Self-Portrait woman is strong and feminine. She's you! Sling on a pair of heels with a dress or a jacket thrown over the top for work; Self Portrait caters for the everyday woman working 9-5 or the jet setter attending an event.
Here at Style Theory, we're huge fans of Self-Portrait and the waves it's made in the fashion industry. Looking for a Self-Portrait dress but don't want to break the bank? We've got you covered girls! From the Floral Vine Cape Midi Dress to the Prairie Mini Dress,
you're going to fall in love.
Related Articles