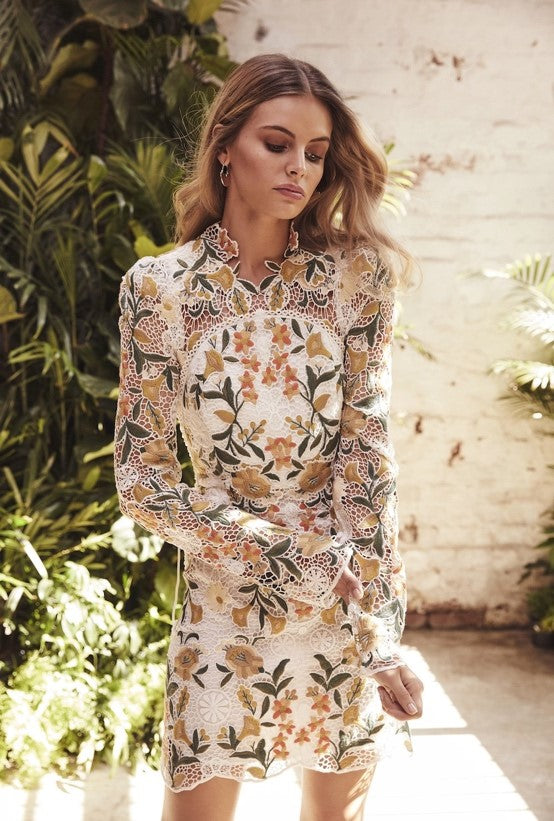 It might be the happy couple's big day, but that doesn't mean you can't attract some eyes onto you with the new era of wedding guest dresses Australia is showing up in. Times are changing and now you can rent stunning wedding guest outfits online that look like they were made to measure just for you.
Transform the aisle into your catwalk, raise a toast and say "I do" to the next generation of women's wedding guest outfits.
Fashion Bends the Rules. Always has, always will.
Rules are there to be broken, right? Your wedding wardrobe seems to come with an entire book of guidelines about what you can and can't wear. But in the modern age, just how rigid are the "rules" of wedding guest outfits? And how can you bend them, so that you can get your way?
 Rule 1: Be (Semi) Conservative
Church weddings in particularly call for more conservative outfit choices. Showing too much skin is often frowned upon, but if you choose to focus on just one feature, you're onto a winner. Accentuate your favourite asset with a plunging neckline, cut-out sides or shoulder features like this Pastel Peony Mini Lace Dress from Thurley. "The rule of one" is a good guideline to stick to if you want to avoid feeling literally underdressed.
Rule 2: Don't Wear White
This may be the only rule that's not so flexible. There should only be one white dress in the room, and you probably can't get away with cream or ivory, either. If you're a monochrome woman, go for black or a black and white combo. After all, it's better to spend your time on the dance floor without the distraction of spills and stains.
Mid-Length Dresses
In keeping with rule 1, mid-length dresses keep you looking classy and sophisticated without too much effort. This classic shape embodies understated glamour and flatters the feminine form, while being the perfect dress for both summer and winter weddings. The Benito Midi Dress is a classic yet contemporary take on the classic mid-length style, adding a new dimension to the average wedding guest dress.
Luxe Materials
Experiment with fabrics and rich, luxurious materials to add depth to women's wedding guest outfits of simple colours. Just like the Akasa Dress by Lexi. Lavish satin and draped features will give your ensemble that high-end feel that wouldn't be out of place at a celebrity party.
Prints
Prints ensure you won't blend in with the bridal party and save any awkward photo moments. We absolutely can't get enough of this season's best-seller. The So Darling Sunset Dress is the epitome of vintage glamour and modern chic with a stand-out lemon floral print and balloon cap sleeves.
Tuxedos 
A tux isn't just for the groom, they're for women in the wedding party that know how to nail dressed-up smart with high-end fashion. Blazers get a makeover when they form daring mini dress styles or androgynous yet sleek pantsuits, like the Caroline Pantsuit by Misha Collection.
Occasion Perfect Dresses from Style Theory
Whether you've got a special role to play in the big day, or you're just there for the champagne and free buffet, this season's wedding guest style is all about taking risks without dropping class and elegance. Find your inspiration and rent the perfect wedding guest outfit online from Style Theory.
The best dress you can wear is confidence and if anyone tells you to stop stealing the show, throw confetti in their face.
See 2018's new arrivals and RSVP with a "hell yes".
Related Articles