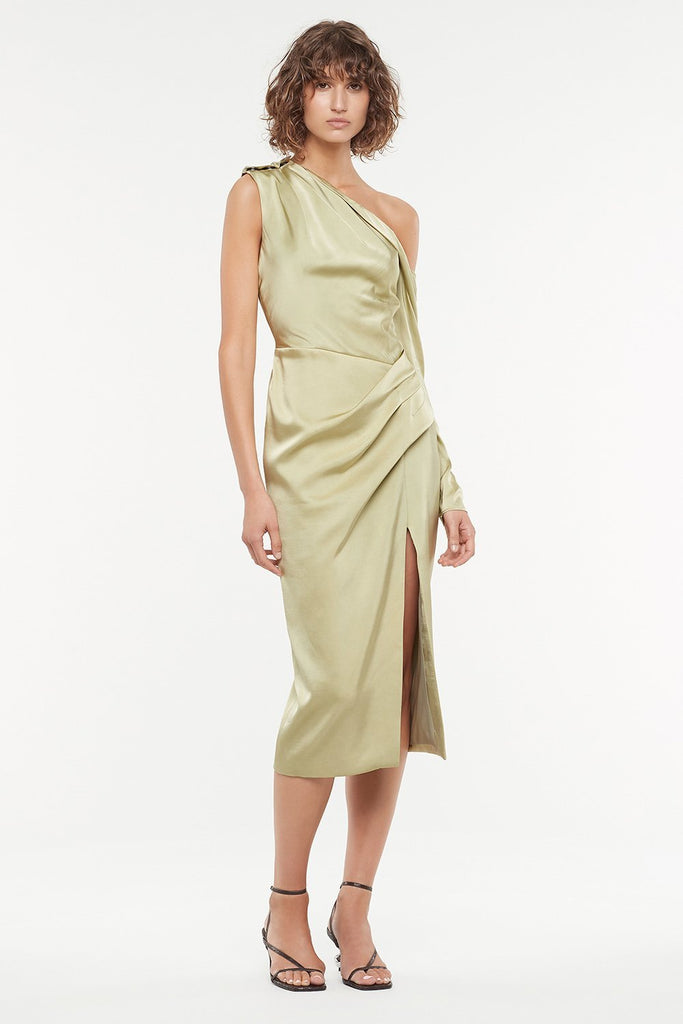 We've unashamedly spent many hours of isolation dreaming about the first bar we'll go back to, the first restaurant dish we'll order, and of course, the dresses and outfits we'll be doing it all in. When life returns to normal we'll be ready with the perfect fit for every occasion. While we might just be dressing up for our partners, kids, families, and flatmates for now, it won't be long till we can start ticking off that to wear list! 
 We've got you covered to start your own TO-WEAR list with everything from Alex Perry, to Dion Lee, Zimmerman, and Scanlan Theodore dress hire. 
In the meantime here are the dresses we can't wait to show off!
This Jodi dress from Talulah will have you coming out of isolation with a big bang of bright colour. The perfect pink is playful and flirty. Paired with this flowy fabric and lettuce like frill you can make sure nobody misses your big return.
If the hotter pinks aren't really for you then the classic Crepe knit dress from Scanlan and Theodore is sure to be a hit. This classic silhouette hugs you in all the right places. With the one shoulder and ruffle detailing it's the perfect amount of extra while still being subtle. We can't wait to pair this blushing baby pink with our favourite pair of heels.
One thing we've loved about this isolation is having the time to stalk through all our favourite celebs and fashion icons and all their iconic looks. This sage satin gives us major 90's red carpet vibes. The perfect asymmetric dress from Manning Cartell to make a stylish statement.
While most days we've been at home in our favourite trackies, one thing we really miss is getting properly glammed up. This Bailey Gown from Nookie is the ultimate floor length show stopper. The colour and the silhouette is a match made in heaven. We can't wait for an excuse to get all dolled up in this one!
As much as we do miss getting glammed up, being will always have a place in our hearts. If when the day comes, you aren't ready like us to give up the comfort and freedom we've had at home then this one's for you. The perfect printed jumpsuit from Mish Collection is the perfect way to get all dressed up without compromising on comfort!
If you're missing partying with the girls as much as us then the Olivia Pantsuit should be top of your post isolation list! It's bright, bold, flattering, and best of all, perfect for the dancefloor.
Related Articles