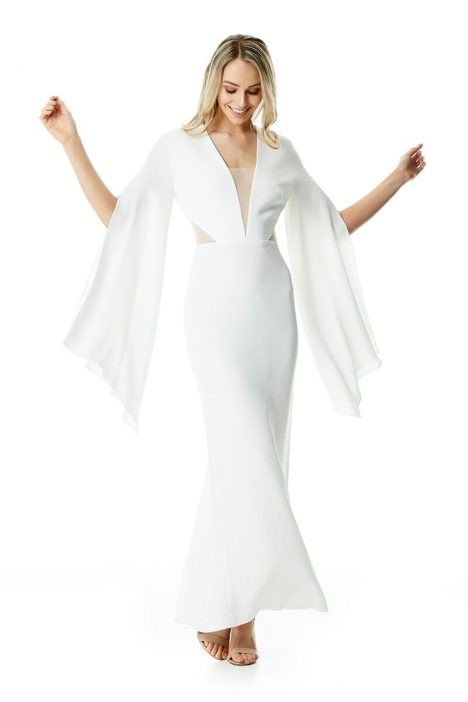 Want to know how to stay in business for over 50 years?
Just take a look at Carla Zampatti, the ultimate female boss. In fact, Carla Zampatti is such a successful business woman, she isn't just a female boss. She's the Australian fashion industries answer to the ultimate boss.
Selling formal dresses in Melbourne, Australia and worldwide, Carla Zampatti shows no signs of slowing down.
Humble Beginnings
Italian-born Australian designer Carla started up her own small business way back in the 1960's, and she's never looked back. In fact, she only looks forward, and the brands popular collections are proof of that. Arriving in Australia after leaving Italy at just nine years old, Carla originally started designing and selling clothing to her group of friends – a natural flare for complementing the female silhouette was at the forefront of Carla's expertise, and still is today.
Inspiration
"My mother took me to a dressmaker one day and I just instantly knew it was where I wanted to be … it was an instant love affair. I've never fallen in love with anybody like that!" – Carla Zampatti
Carla herself noted in an interview that at the time, there wasn't an option for her to head to a fashion school, so instead found herself gaining experience assisting the CEO of a small blouse company. Of course, the feisty and motivated young creative ended up heading up the whole design team herself, whilst familiarising herself with fabrics, garment creation and how the process of buying worked.
The First Collection
Back in 1965, Carla Zampatti produced and curated her first small, capsule collection for Zampatti Pty Limited, with her life savings of £750. Commitment, right? Just two years later, the brand went national, and by the 70's, Carla Zampatti Pty Ltd was born.
The Here and Now
Formally celebrated with a number of Australian and international awards, Carla Zampatti boasts a number of titles such as Bulletin/Qantas Businesswoman of the Year, and in 1994 the fashion industry of Australia named her Designer of the Year. Nowadays, the eponymous label is well known for curating collections full of timeless yet contemporary pieces.
Interesting shapes and bright bolds are inspired by the all Australian woman, combined with draped silhouettes and nude hues that take inspiration from the glamour of Italian style clothing. All of these styles can be found in the now 26 worldwide Carla Zampatti boutiques, as well as online, and here at Style Theory.
Our favourite female boss is also a mother to three children, including Bianca Spender, a much loved Australian designer in her own right. Creativity certainly runs in the Zampatti genes, that's for sure.
Rent Formal Dress in Melbourne and Australia Wide Today  
If you've fallen in love, then we're here to stop you from feeling lovesick. Browse our incredible collection of Carla Zampatti gowns, and rent an outfit to suit any type of occasion.
Related Articles