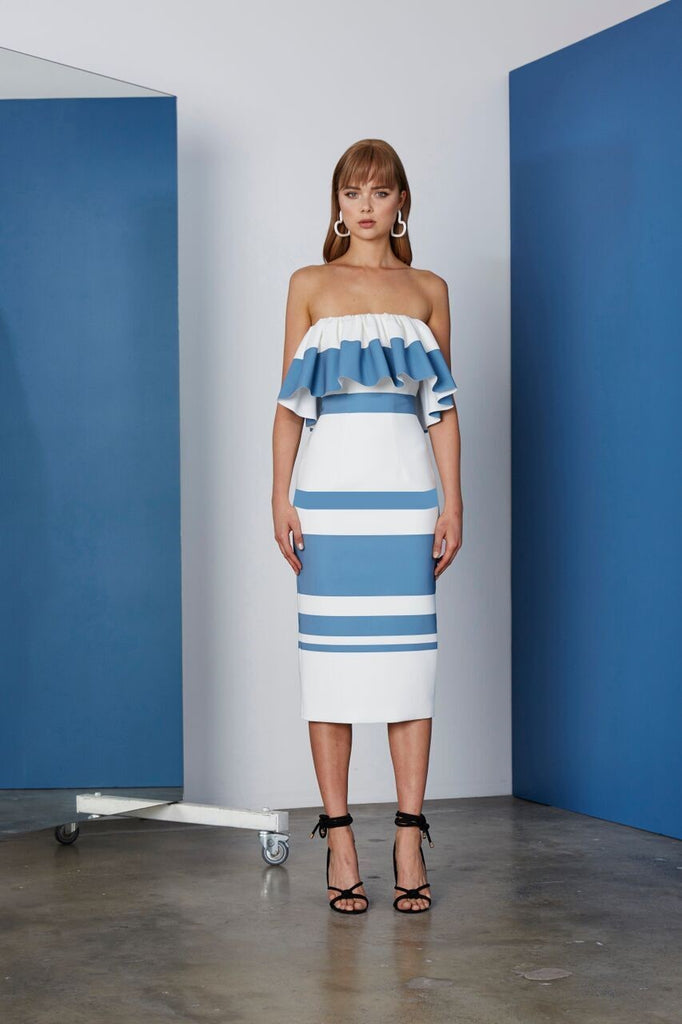 At the Melbourne Cup, fashion trends often upstage the main event (for us anyway!). Women dominate the field, showing the rest how it's done. Here at Style Theory, we like to raise the stakes in race day dresses that are sure to have hearts galloping.
Spring racing fashion is exciting, feminine and fresh: think flirty hemlines, floral patterns and frivolous frills.  In 2018, we're bringing fun fashion out to play, and this Golden Surfer Dress from Zimmermann is the perfect little number to do just that. The women at the Melbourne Cup that get it right follow the dress code but get playful within the lines with fresh approaches and eye-catching features.
DERBY DAY
Derby Day kicks off the festivities and has the strictest rules in terms of what you can and can't wear. Outfits must be purely black or white or a mixture of the two, and this by no means equates to dull or boring.
Monochrome is chic, it's classic and it's the best way to make a statement with wide-brimmed hats, veils, pearls and other vintage accessories. You can't go wrong with a little black dress, but just make sure it's not the type of outfit you could go clubbing in afterwards! Keep it classy but flirty in the Jessica Lace Dress, with its sheer lace neckline and flared sleeves.
To stand out against the sea of black dresses in the crowd, don't be shy of going for white on white on white. This Benito Midi Dress is a subtle nod to 1950's glamour, creating definition and showing just the right amount of skin.
EMIRATES MELBOURNE CUP DAY
The biggest, boldest of all the days in the racing calendar is the Melbourne Cup. Fashion follows suit and is all about bright, vivid palettes and fun styles. Don't be afraid to show up in standout headwear, from fascinators to crowns, hats, veils, netting and embellished headbands.
This year, we're expecting pinks and reds to be a prominent colour story on the day. This Cortona Midi Dress in fuchsia is striking enough to hold attention but simple enough to make your unique stamp on it.
KENNEDY OAKS DAY
Kennedy Oaks is the day for ladies to step up. Palettes of light, pastel tones and styles are feminine – think lace and floral. White works too and looks stunning paired with statement earrings and glitzy handbags.
This is your opportunity to bring out your inner vintage chic and lose yourself in floral patterns and contrasting head scarves.
This Self Portrait 3D Floral Midi Dress will have you looking pretty in peach and sky blue with futuristic floral crochet and a feminine off the shoulder neckline.
RENT MELBOURNE CUP DRESSES ONLINE, FROM STYLE THEORY
You'll probably see some horses over the course of the weekend too, but let's face it… we're there for the clothes. Whichever race is your favourite, you're guaranteed a day to remember in spring racing fashion inspiration from Style Theory and our huge range of minis, midis and gowns.
See you at the track.
Related Articles