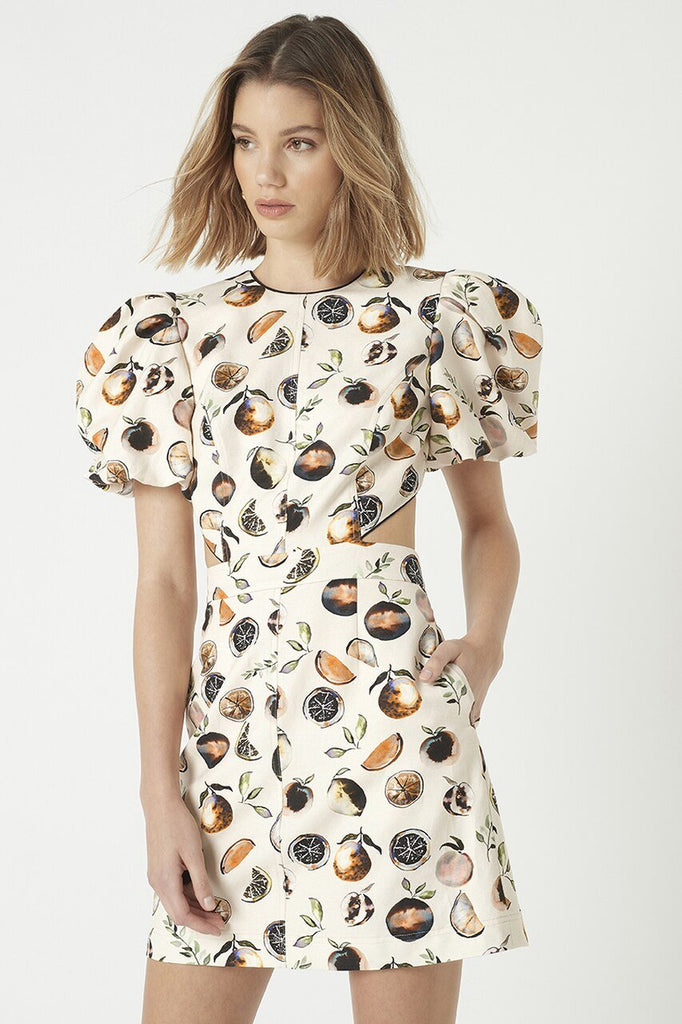 2020 has had a strange array of fashion trends (#cottagecore, #darkacademia, to name just two) probably in response to the strange twists and turns of what we're sure will one day be named the weirdest year in history. So, if you're feeling confused about your designer dress hire choice for Christmas, or don't know how to translate this year's European fashion trends into an outfit suitable for Australia's summer, then keep on reading! We've gone through the top styles of 2020 and selected the best dress hire options for the festive season.
The Cutie-Pie Dress
The fervor around that strawberry dress is something we will look back on in years to come in wonder. The frothy pink strawberry dress even made it to the red carpet and into the pages of Vogue, in no small part due to its Tik Tok popularity. The creator, Lirika Matoshi, noted that sales spiked over July and August, proving that the more depressing 2020 became, the more we wanted a cute-as-strawberry-pie dress to cheer us up.

If you're still in need of a fashion pick-me-up then Christmas is the perfect time to wear something bright, sweet and fun. While not quite as frilly as the official strawberry dress, our Frutta Mini Dress by Aussie favourite Rebecca Vallance combines frivolity with a chic cut, while the puff sleeves and a fruity print pull it all together.
The Cold Shoulder
Asymmetric tops are another 90s look that's back in fashion again, perhaps as a dressier alternative to the boho off-the-shoulder dress. This sleek neckline compliments the softly falling silk fabrics that are also on trend, and suitably cool for those hot summer nights. One shoulder dresses can incorporate puff sleeves, long sleeves, frills, and even dainty single shoulder straps, clasps, or twisted fabric. The one shoulder mini dress is having a revival, but we personally love the one shoulder maxi dress for an elegant Grecian silhouette. Even Vogue announced that the one shoulder is the new off-the-shoulder so we know this trend is legit. In fact, we think it's here to stay, if the words of Vogue writers are anything to go by: "The tension between bare and covered, modesty alongside sultry, is the point of interest and we predict the aspect that will make the trend stick."

You'll be the belle of the ball in our one-shoulder midi dresses and gowns, including our dark floral print Rosewell One Sleeve Midi and our bright pink polka-dot Mattel One Sleeve Midi. But if you're looking for your personal princess moment, our hot pink Cardiallo Gown features a delicate spaghetti strap, luxe fabric and high leg slit for jaw-dropping effect.
All That Glitters
Christmas and New Year wouldn't be complete with a fun, irreverent fashion trend to go with it. This year it's all that glitters with sequins popping up everywhere. From Marc Jacobs, Ralph Lauren to Sally LaPointe, elegant evening gowns bedecked in sequins have been seen shimmering down the runway at nearly every Fashion Week. The sequin dress may be a party season favourite, but we love how it's been reinvented in a classic suit cut. Sequins also look great over Zoom. For those of us celebrating through virtual channels, a glittering statement dress will certainly put you in the festive mood. However, in a nod to sustainability, this might be one of those trends that you prefer to rent rather than buy, since party dress trends are notoriously short lived. This is definitely one of those "wear it once" kind of styles, so why not rent your own sequined dress right here at Style Theory?

Our eye-catching Broadway Mini Dress is an emerald green vision. Draping, soft-focus sequins and a silk waist-tie with dainty fringing makes this our festive season favourite. We think emerald green is suitably Christmas-y, but if you're after a more ethereal look, the Broadway Mini Dress also comes in stunning silver. But if you're on a mission to turn all heads, the Broadway Maxi Dress in silver will have you feeling like a star of the silver screen.
Related Articles