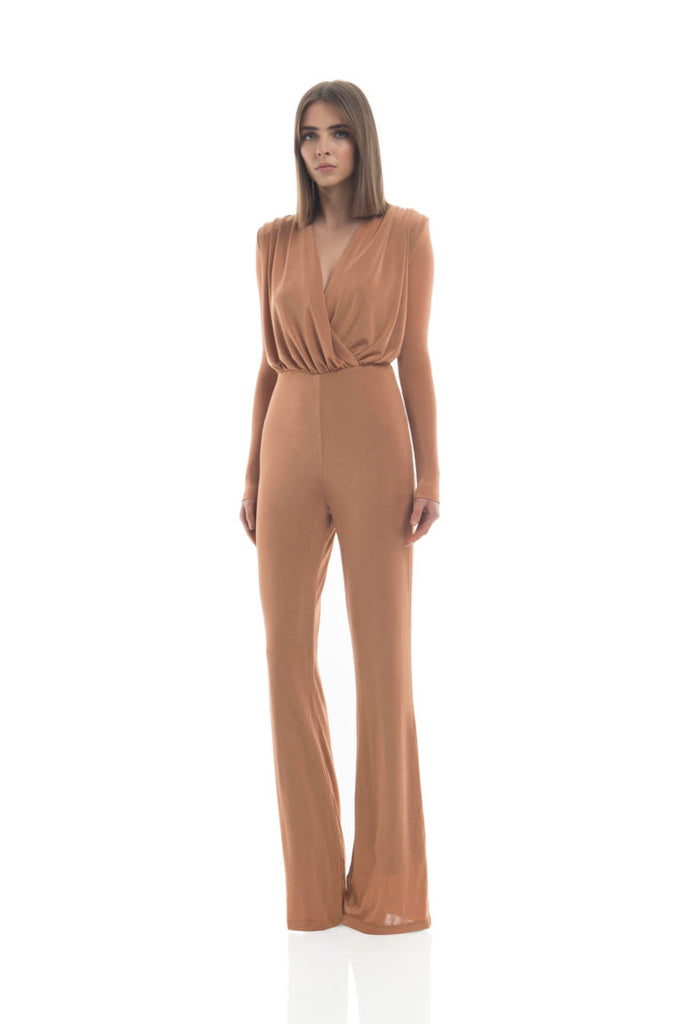 We are well and truly strutting into the chilly season now. Even if the weather is looking a little soggy, our social lives are certainly not hibernating! You'll find plenty of parties, dinners, dates and more to attend – but it can be tricky to find that fine line between keeping warm and looking polished. 
So, what are you going to wear for this wintery affair?
We've pulled together our absolute favourite trends for this season – the best part is that you don't have to invest in owning all of them, we offer designer dress hire! You can look the part and feel up fresh in the latest trends when you rent a dress. 
Playful in a Pantsuit
We've done the dresses – all summer long. Time to shake things up with a pantsuit: loose and soft – or –  tough and structured! This transformative piece can create major #girlboss vibes, like our Misha Collection Atlanta Pantsuit where a few eye-catching winter trends meet. This one is head to toe coverage and also a gorgeous neutral shade. If you're looking for something more playful, check out the stunning Addison Pantsuit!
Shout it out Statement Coat
Gone are the days of slim trench coats and silky dusters. This season we're looking for tactile textures and ultra volume jackets. The super luxe Elka Collective Josefine Jacket is a stunning option that you could wear in so many ways. This is the easiest way to look chic while staying cosy warm on these winter nights. 
Blue is for the Babes 
It has totally cemented itself as one of this years' staple colours. Blue, especially a soft powdery shade is being worn around town. Whether you wear it head-to-toe in a designer gown or use it to brighten up a totally neutral outfit, this tone suits everyone! Check out this stunner: Lexi Akasa Dress
Make it Monochrome: Nude on Nude
As winter drones on, colour can be the perfect pick-me-up. But sometimes it's even more comforting to lean in to the neutral colours. Pick a favourite: beige, ivory, taupe, black, gray, sand… the list goes on. Play on the opportunity to layer these in one chic outfit. 
Metallics, but not like the 80's
High-shine, but making it stylish. We have a beautiful range of metallic Gala dresses for rent. Don't worry about looking like you've come dressed as a satellite, these luxurious materials drape beautifully and show off all of your favourite assets. 
Attention: Sleeves and shoulders!
In theme of the voluminous and the eye-catching, the trend this season is to accentuate dramatic sleeves and shoulders. We've got some gorgeous options like the Joslin Norah Linen Ramie Dress with the beautiful structured linen and unexpected, yet classic silhouette.  
Related Articles