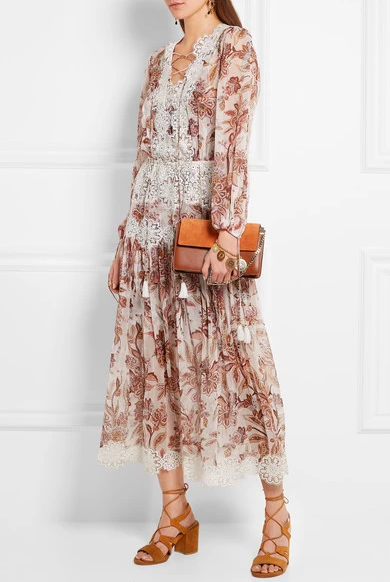 Maxi dresses are one of the most versatile dresses a girl can have but a lot of us aren't sure how to wear them. We admit a beautiful maxi dress fit for a princess can be intimidating but don't let that put you off. Like any fashion piece, it's all about fit, colour and how you style your accessories. Style Theory designers like Rebecca Vallance, Zimmermann, Lexi and Camilla and Marc all make stunning seasonal maxi dresses for every occasion. With Style Theory dress hire you can experiment with maxi styles at the office, on the weekend and even in colder climes, just A Listers do in NYC.

Maxi dresses for work
A long hemline tends may seem more for special occasion dress than something you would ordinarily wear to work, so we understand why putting on a maxi for the office seems intimidating. But rest assured, it's all about the material, colour and tailoring. The best thing about wearing a maxi for work is it's a one step outfit, pull it on and you're done! Saving you time and effort in the morning, meaning more time for a coffee or a sleep-in, and you can't beat that. If you work in a casual office then a bright block-colour maxi under a more structured cardigan or blazer and smart leather shoes will look chic and effortless. Our Rebecca Vallance Rousseau Tie Maxi brings a bright pop of yellow that pairs beautifully with neutral tones. Or if you work in a more traditional office, opt for a clean-cut silhouette in a neutral tone such as beige, white, pale pink, grey or black and add a smart blazer for an authoritative effect. We love the streamline Rebecca Vallance Harlow Dress for a stunning work-to-dinner maxi. 

Maxi dresses for the weekend
Weekend dresses should be bright, fun, versatile and eye-catching. Throw off the work-week by throwing on a comfortable maxi in a fun print and design that expresses your individuality. Whether you go long sleeves or no sleeves, the key is to make sure your weekend maxi can take you from A to B and suit a variety of occasions. Change from ballet flats to sandals for the beach, sandals to cute trainers for running errands and trainers for kitten heels for brunch with your friends. When it comes to the weekend comfort and fun are key and that's why we will be reaching for the Zimmermann Good Times Dress with its beautiful silk chiffon panels and loose bohemian fit.
Maxi dresses for winter weather
The key to wearing a maxi in winter is a bold colour and clever layering. Wool or cashmere tights or leggings, ankle boots and a cute leather jacket can keep you warm in your favourite maxi on a crisp autumn day, but in really cold weather a long sleeve maxi with a high neckline should be your go-to. Worn under a long winter coat, with your favourite pair of boots, this is a timeless winter look that will take you everywhere. Our
Thurley Valentina Dress
is exactly what you need.
Related Articles