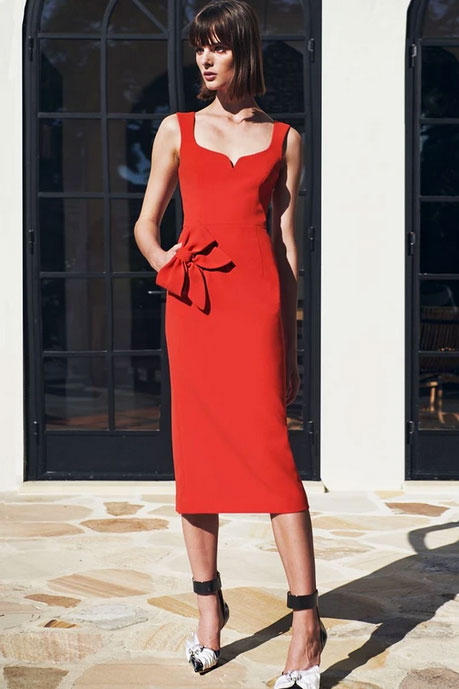 So you've been staying at home watching just about everything on Netflix in your jammies. We admit there aren't many reasons to get dressed up these days but if you want to have some fun then it may be time to put in the effort. Why not try on one of your favourite Netflix fashion looks by renting one of our dresses for hire? We have a dress to channel all of your favourite Netflix characters and tv stars!

Queer Eye
There are a billion amazing outfits in the reality hit series Queer Eye. Queer Eye follows five queer guys who use their style talents to give well-deserving ordinary people glamorous makeovers. But what's really beautiful about Queer Eye is it's not all about looks. The fab five take care of their houses, dreams and mental health too. It's hard to choose just one episode but we think the Jones sisters deserve credit for their amazing makeover. These two hard working sisters get some love when the fab five show up and show them the art of self-care. Over the course of the episode the Jones sisters discover that shirts don't have to be plain or boring and we couldn't agree more! Our Moonchild Set by Alice McCall comes with a super cute white button down shirt, cut out sleeves and skirt to match for an empowered fashion statement.
Russian Doll

We don't want to give away any spoilers but in Russian Doll the lead character Nadia keeps dying and reliving her 36th birthday party. It's a dark take on Groundhog Day with amazing costume design to go with it. Nadia wears mostly black, red, grey and white, in a series of covetable blazers, blouses and robes. If you'd like to try Nadia's Lower East Side style on yourself then our
Leona Blazer
looks like it came directly from her wardrobe.
Tidelands
Glamorous female leads steal the show in the sexy Australian thriller Tidelands involving magic and mermaids. It's basically impossible to watch this show and not notice the gorgeous dresses and not want one for yourself. Lead character and maybe-mermaid Adrielle kicks off the show in a long sleeve black dress with lace inserts and we think our
Turning Heads Fitted Midi Dress
has the same kind of vibe.
Chilling Adventures of Sabrina 

This supernatural hit series follows the adventures of small town teen witch Sabrina Spellman. Sabrina must come to terms with being half-witch half-mortal and fight evil forces while she's at it, all in 1950's inspired outfits. There are a lot of cute dresses in this show but we especially love her take on the little red dress. For your own version of the Sabrina Spellman look we suggest our retro inspired
Galerie Bow Midi Dress
.
Related Articles