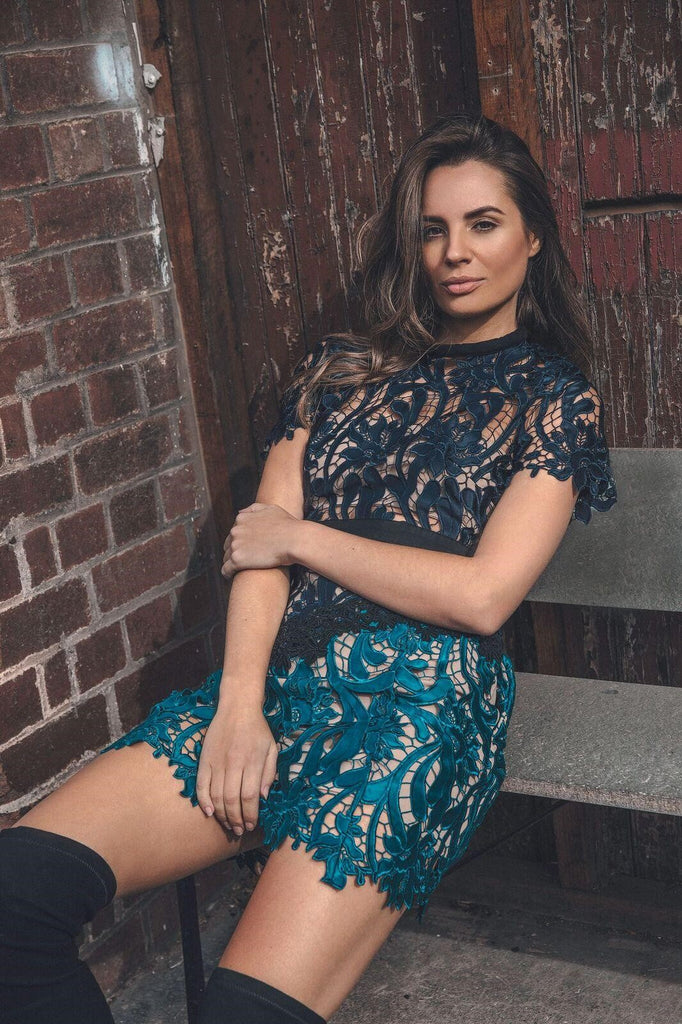 It's coming up to that time again. The one event of the year that you want to look your very best, have fun… and definitely not be THAT person at the party. That's right, you guessed it. Your work's Christmas party is basically around the corner, which means you haven't got long to find an outfit that's both super cute and appropriate… well, just about.
Luckily for you, we've pulled together an edit of our favourite work event outfits – with us, you don't have to waste tonnes of money on an outfit you'll wear once! Whether you hire a lace dress or a black jumpsuit for the Christmas party, it's time to show your colleagues how it's done… just go easy on the tequila shots ladies!
The Modern LBD
Well, it wouldn't be a party without someone turning up in an LBD. It also wouldn't be a party without spotting someone in a Self Portrait creation, so why not be the girl to scoop one up before your colleagues? We're a little in love with the Midnight Ruffled Off-The-Shoulder Jacquard Mini Dress. Ideal for a party with colleagues, the pintucks work as a sneaky way to contour your figure and complement the off the shoulder neckline that shows just the right amount of skin.
Little Lace Dress
You just can't go wrong with a little white lace dress. Perfect for weddings, the races, and of course the infamous Christmas party. The Le Saint Ruched Lace Dress by Rebecca Valance hugs the body, accentuating an hourglass figure in all the right ways. Wear the fit and flare silhouette with some Perspex sandal heels to add a little bit of edge to your look.
Bright and Bold
At the Christmas party it's all about standing out for the right ways. Wearing bright, vivacious colours is a great way to show your colleagues just how stylish you really are… and to look and feel your very best! The Leah Shoulder Mini Dress from By Johnny screams Summer. The asymmetric long knotted strap brings the glamour and the vivid green colour is the kind of glam attire you'd wear in Cannes. So. In. To. It.
Black Jumpsuit with a Twist
Classic, but never boring. The black jumpsuit just can't be beaten and we're about to show you exactly why. The Addison Playsuit by Misha Collection is the ideal evening attire. Crafted from a floral satin fabric and featuring a striking corset detail that runs all the way down the bodice into side split pant legs, this black jumpsuit is sure to turn heads.
Just remember that with fashion, there's no right or wrong. As long as you feel good wearing something that flatters your body, that's all that matters.
So, if you're browsing for the Christmas party outfit of dreams on a budget, allow Style Theory to step in. We've got a huge range of luxurious designer dresses at affordable price. Just remember… not too many tequilas!
Related Articles