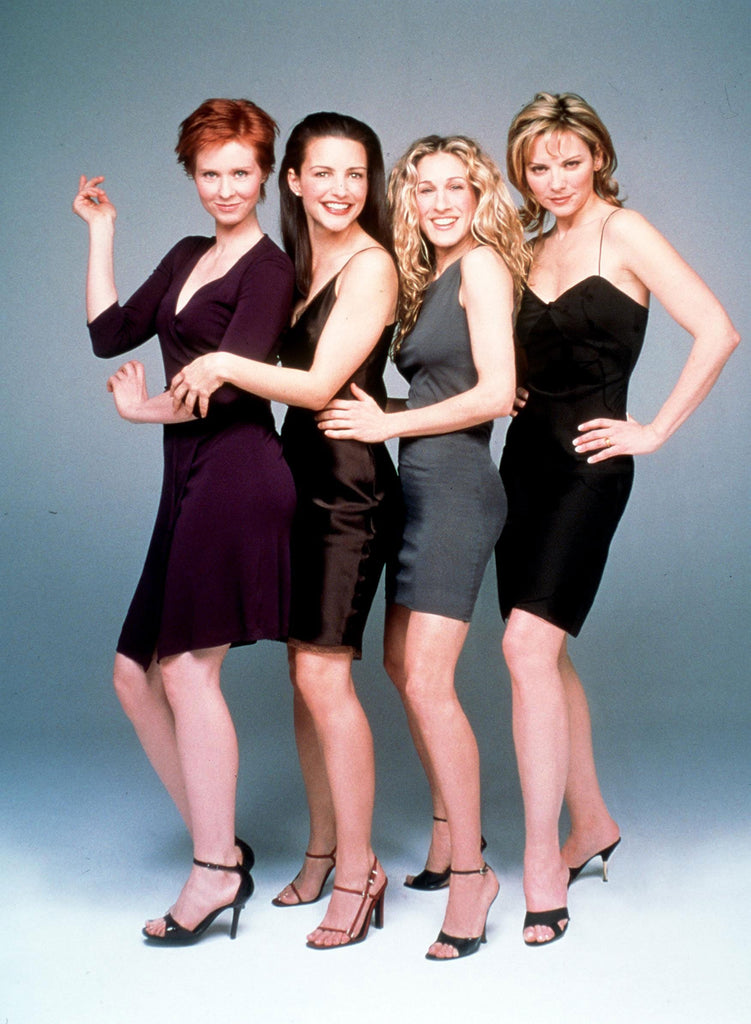 Here's what's at the top of our watch list at the moment
Now might not be the time you get to whip out your favourite fancy evening gown rental. While that time is no doubt on the horizon, for now we're getting our fashion fix from the comfort of our beds and favourite streaming services. 
In no particular order, these are the TV shows, docco's, and cult classics we're loving for all our post iso fashion inspo.
1. Sex and The City
This one's a no brainer! Every episode is a catwalk for each different character. From Carrie's extensive shoe collection and dedication to overdressing, to Charlotte's classic business chic, Miranda's perfect casual 90's looks meets hard working woman, and Samantha's ability to make any outfit super sexy. The fashion inspo comes thick and fast in this one. It's also a classic we can watch over and over regardless!
2. Queer Eye
The reboot of Queer Eye is one of those sacred shows that not only survived its modern remake but THRIVED. This one is as heartwarming as it is fashion and life inspo! Queer Eye reminds us of the power in fashion and beauty to make someone feel confident. With a bunch of new episodes online this has to be our feelgood fave!
3. The Devil Wears Prada
Another classic that is NEVER going to disappoint you. I swear the more we watch this one the better it gets! Channel your inner Miranda after watching this one. Track pants in isolation? Groundbreaking.
4. Ru Paul's Drag Race
If you're new to the world of drag race you'll have PLENTY to binge on. There is NEVER a dull episode with this one. Get some over the top fashion inspo, a new makeup routine, and a whole lot of laughs out of this one.
5. Clueless
Ugh As If.. you haven't seen this one. We'd kill to be able to see clueless for the first time again and bask in the glory that is Cher Horowitz's wardrobe. From her outfit picking technology to her perfect 90's co-ords, or THAT Calvin Klein dress that was a sell out after the movie aired. The whole costume department of Clueless deserves a raise. Now, as the 90's come back into style, it's the perfect time to watch this classic and get some inspo. 
6. Gossip Girl
Another costume department that was doing the most. Enjoy all the boujee outfits Gossip Girl has to offer. From their preppy upper echelon school uniforms, to their party dresses. Everyone in this show is IMPECCABLY dressed at all times.
7. The Assasination Of Gianni Versace
If you're looking for a little more action or are a bit of a true crime lover, this one's for you. This series follows the life and death of the great Gianni Versace. The costuming, cast, and cinematography in this is beautiful. It's also topped off with the perfect soundtrack. This one is an emotional ride, but beautifully made.
8. Dior & I
Follow Raf Simmons through his first Couture collection with Dior. Showcasing the true art that is fashion, and especially couture work. Watch the collection come to life through this behind the scenes look at the immense pressure and hard work Simmons endured. 
9. McQueen 
Another designer docco, McQueen is an intimate look into the life of the late designer. This deeply personal docco speaks to McQueen's family, friends, and loved ones. Ultimately a celebration of his life and everything he was so passionate about in his work.
10. The Boy Who Made Shoes For Lizards
If you already binged Sex and the City you've probably got Manolo Blahnik's on your mind. This one is a look into how the empire of Manolo Blahnik came to be from one of the most fun and flirty shoe designers ever.
Related Articles